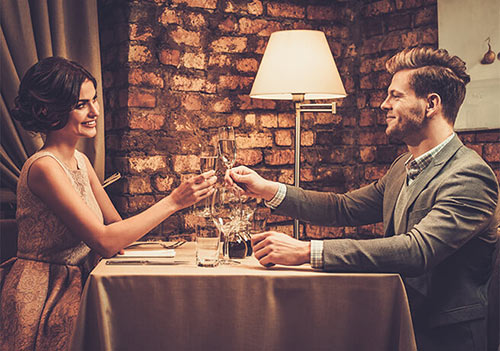 For most of us, at one point or another in our lives, we've thought about how great it would be to be the one dating a millionaire. Just think of all the lavish trips you'll be taking, the social parties, and not to mention the shopping. As good as the "good life" might seem, not everything is all roses. You may be surprised but, dating the wealthy comes with its own set of pros and cons. To help illustrate the good and the bad we've covered some of the top points of both cases below.
The Pros of Millionaire Dating
Financial Security
Probably the top of everyone's list is the financial security that dating someone wealthy brings. Financial stability is important to both men and women looking for a relationship.
Source Of Motivation
Dating a millionaire can be a very motivational experience. Understanding the great lengths that some people have gone through to get where they are today can make you want to work harder and want more for yourself.
Large Social Network
Millionaires often have good lawyers, financial advisers, and doctors that they have access to. Being in a relationship with someone rich can give you access to people and services that you never knew existed or would have accessed before.
Lavish Lifestyle
Dating a someone wealthy like a millionaire tends to come with perks like enjoying the finer things in life. From nice restaurants to exotic cars and fancy clothes, dating someone rich can really make your life a lot more lavish.
The Cons of Dating Millionaire
Hard To Trust
Millionaires and people with a lot of money can have trust issues. People are constantly trying to con them out of their money so it can take a much longer time until they fully trust you if they ever do.
Mood Swings
To make a lot of money, often you need to take on a lot of responsibility. Things can go from peaceful to very stressful in a very short amount of time for millionaires with lots of responsibilities. Sudden mood swings and attitude changes are part of the deal sometimes and something to be aware of.
Stingy
We all like the idea of being spoiled with nice things but the truth is that the rich don't get rich by spending money. In fact, a lot of millionaires can be rather stingy with their money. They work very hard to get it and even harder to keep. So if you plan on throwing their money around, your relationship may not last as long as you might hope.
Arrogant
When you have to ability to be able to have anything you want, sometimes you can become arrogant and even start expecting certain things or services. While anyone can have this trait, being in control of large amounts of money and the power that comes with it can sometimes quickly lead to a toxic and arrogant attitude towards others in service roles.
Busy
Another big con to dating millionaires is that they are constantly busy. For some people, they have the money but not a lot of time. Between business and other obligations required to make money, you might find yourself shopping or vacationing alone because your millionaire partner is out working on making more millions.
Dating millionaire can be a wonderful experience, but you must always keep in mind that no relationship is perfect. Millionaire or not, we are all only human and there are always pros and cons.